Neat Smart Organization System - System Account Settings
Please Note: Neat Web App now has ALL of the desktop features, and so much more! You can continue to use this desktop application, however, all new features, improvements, and updates will occur in our Neat web application. Click here to learn more
!
You can access your Account Settings for your Neat account and settings for the application using the Neat Smart Organization System.
Account Settings
To access Account Settings click your name at the top right of the Smart Organization System and choose My Account.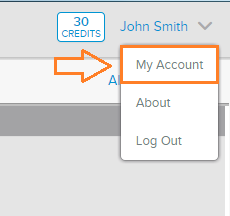 There are four main sections under Account Settings:
Profile: Account information such as the name and email address on the account, your Neat Cloud email address for forwarding items to your account, and lists any additional users on your account if you have that feature included with your Neat Plan.
Subscription Plan: Manage your Neat Cloud plan and your NeatVerify plan.
Preferences: Set currency and date formats. Manage your offline storage settings.

Connections: Connect to other programs such as QuickBooks Online, Campaign Monitor, Constant Contact, MailChimp, Google and Outlook to share information from the Neat Cloud.
Account Settings
If you have setup a connection to QuickBooks Online or QuickBooks Desktop, then you will also see a 5th Accounting Settings tab that shows options for mapping data between the Neat Software and QuickBooks.
---
---