NOTICE: January, 2022:

The Neat Support Call Center is currently experiencing higher than normal wait times.

We apologize for any inconvenience this causes.

In the meantime, the fastest way to get support is to open a case here, and a support agent will reply to your case as soon as possible.
OR, schedule a call with support at a time most convenient for you, by logging into your Neat account & clicking 'Help & Support' in the bottom left corner.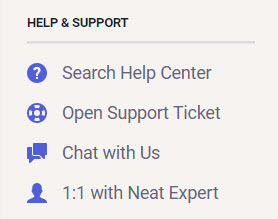 In-App Help for Neat Subscribers
All support and contact options are now available in the Neat app! Get Support & Learn about Neat by checking out "Help & Support" right in the app!
Launch The App
Retired Products
Please note that the information provided on these pages is related to products and/or services which are no longer supported and agent support is no longer available. This information is provided as a courtesy for users who may still need troubleshooting or FAQ information on end-of-life products.