Where Do My Scanned Items Go? - Needs Review Overview
Please Note: For the following you will need to be logged in to the Neat web app.
In the current Neat Cloud, items sent to Neat from the Neat Connect scanner or from the Neat Mobile app (using the default setting without selecting a folder) would appear in your
Files
when scanned. In Neat, new items will appear Files under
Needs Review
or
Unfiled
.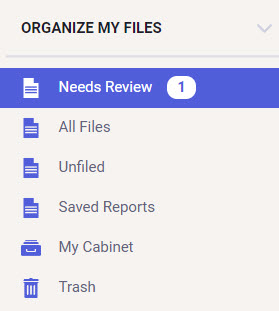 Sorting Items
These items can be sorted in a variety of ways to make it easier to view specific items. Sorting options for 
Unfiled
 and 
Needs Review
 include:
Item Type
Alphabetically by Name
Alphabetically by Description
Date Added 
Simply click the column header to sort. Click a second time to reverse the sort. For example, clicking by Name will sort alphabetically by name from A-Z. Clicking Name a second time will sort in reverse from Z-A.
Flag an Item for Review
You can also, mark a file as 'Needs Review'. This is useful if you are sharing your account with others and need to flag an item for review. To mark an item as 'Needs Review', right-click on the item and choose
Mark as Needs Review
.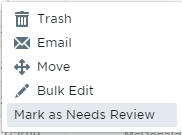 ---
---