Neat Ecosystem FAQs
Frequently Asked Questions
What do I get with my Neat software subscription?
Neat offers several different plan types that include different features, however every Neat software subscription includes:
Neat's Scan Utility application
Neat's Online Web application
Neat's Mobile application for iOS or Android
A unique NeatCloud email address
Report creation
Import/Export capabilities
Click here to get a full list of available plans, pricing and features.
What benefits do I get with Neat Mobile?
With the Neat Mobile app and the Neat Cloud service, you can access your files through the web on any hand held mobile device. The mobile app is great for staying organized when you're on the go, giving you access to valuable information without being bogged down by paper. With the Neat mobile app you can easily take a picture of a restaurant receipt or invoice, and Neat will transform it into a digital record of that transaction.
Available for iOS and Android
No limit to device storage
Images are automatically processed with OCR and key data is automatically extracted
Receipts are available within minutes to produce expense reports right from your mobile phone
Handles multiple document types including receipts, business cards and invoices
What is the difference between the Neat Cloud Powered software and the NeatCloud Web App?
The Neat Cloud Powered software is now referred to as our desktop Scan Utility software. The Scan Utility software can be installed on a Windows or Mac computer. The scanning utility allows you to scan items directly into your Neat software and the Cloud. Everything scanned via the Scan Utility software will be available for viewing on your NeatCloud Web App.
The NeatCloud Web App is our online application. You can access the web app by signing in at app.neat.com. Use the web app to access your database anywhere you have an Internet connection.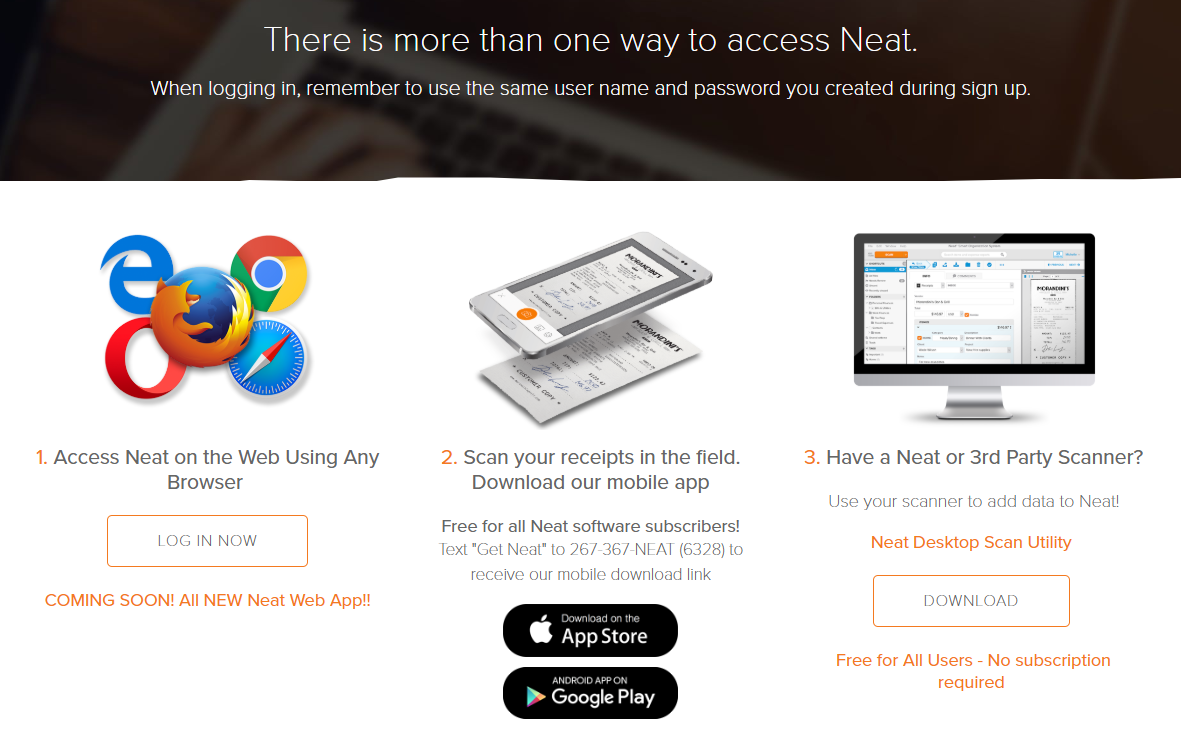 What is NeatVerify?
Please Note: If you are on a Neat Complete Plan, then you have unlimited Neat Verify credits and it is always enabled for verifiable item types.
When enabled, items you send to your NeatCloud will be sent to a team of specialists at Neat, who will make sure that the key extracted information is accurate. The verification process just takes a few minutes and once verified your items will appear in your inbox. If you've already scanned an item, you can resend it to NeatVerify through the Neat Software or online at app.neat.com. NeatVerify provides exceptional accuracy, especially for faded receipts or handwritten totals such as a restaurant bills with an added tip. The process is safe and secure, and you'll know your data is as accurate as possible. Subscribers can decide which images they wish to have verified by NeatVerify. Each item verified uses up one NeatVerify credit.

What is a NeatCloud email address?
Every user gets their own unique @neatcloud email address with a NeatCloud subscription. Forward documents, emails and attached files directly to your NeatCloud email address and Neat will create one entry for the email itself and one entry for the attached document. This is a great feature for those who prefer e-receipts and electronic invoices. Simply give the vendor your @neatcloud.com email address and all your receipts and invoices will be sent directly to your NeatCloud.

What is ID2?
ID2 is what Neat calls our InDocument Identification Technology. Our ID2 captures information like Vendor, Date, Amount, Tax, and Payment Type and automatically inputs that data into your records. Neat runs ID2 on every word of every document you add to Neat, so you can easily search for and find anything in Neat quickly.
---
---