User Profile in Neat
Learn more about all the options that are available within the User Profile area in Neat.
Please Note: For the following you will need to be logged in to the Neat web app.
FAQs
How do I access the User Profile?
When you log into your account in the Neat webapp, you will click on your name in the top right hand corner. Once you click on your name, you will then select User Profile.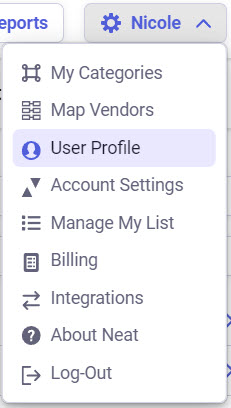 How can I change my password?
In order to change your password within the User Profile select Change next to your current password under personal information.



Once you select Change, a pop up box will appear that will allow you to change your password.


Can I change my email address within User Profile?
Yes, you can certainly change your email address within user profile. For information about changing your email address, please refer to Updating your Log In Email Address
How can I update my security questions?
In order to update your security questions, in User Profile under personal information, select edit security questions.



Once the option is selected, a pop up box will appear where you can edit your questions and answers.


What is Auto-Detect within User Profile?
Auto-Detect is a feature that will automatically detect the type of item you send to Neat via your NeatCloud email. For instance, it can identify if an item is an invoice or a receipt and save it as such. If you prefer, you can set a specific item type for all your emailed items. Setting a default item type will override the 'Auto-Detect Item Type' feature. For example, if you know you only email in receipts then you can choose Receipt as your default item type, and anytime you email yourself a receipt or scan one with the NeatConnect scanner, Neat will automatically parse and classify it as a receipt.
Auto-Detect can be selected within the NeatCloud area and/or the NeatConnect area of the User Profile.



Once you select Auto-Detect multiple options will appear for you to choose from:


Once an item type is selected, any new items sent to Neat from your NeatCloud email or from your NeatConnect will be automatically classified as your selection.
---
---