My Categories
Please Note: You must be on an active Neat (Yearly) or Neat (Monthly) subscription in order to take advantage of the features in this article.
A new feature to support Neat's bookkeeping experience is My Categories which provides a complete listing of all accounts available in Neat to record transactions. The My Categories section in Neat includes balance sheet accounts (assets, liabilities, stockholders' equity) and income statement accounts (revenues, expenses, gains, losses).
My Categories FAQs
What are the requirements to access My Categories?
My Categories is only available to Neat Plan and Neat Complete plan users who have connected at least one account in Transactions. Users will be able to manage and edit categories as related to their own specific business and needs.
What is the My Categories section in Neat?
The My Categories section of Neat is a list of the categories used by an organization to classify and distinguish financial assets, liabilities, and transactions. In Neat, My Categories introduces the first form of list management within Neat and is only supported for transactions users and transaction categories. Users are able to add and remove categories as related to their own specific business and needs.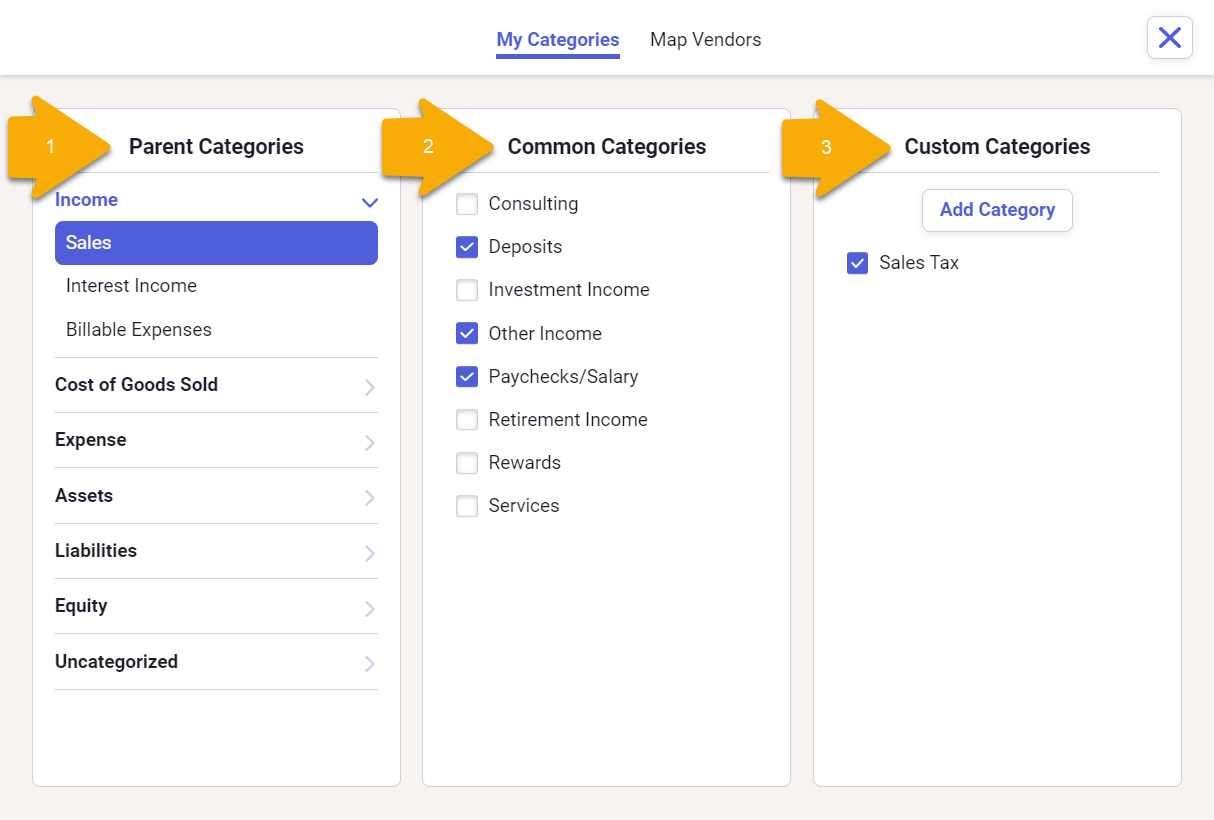 My Categories


Each Neat account will be set up with a default chart of accounts that supports 6 primary parent categories.

Income - Money received in exchange for goods or services rendered.
Cost of Goods Sold - Direct cost of goods to be sold.
Expense - Expenses incurred during normal business operations.
Assets - Equipment or resources owned by the business.
Liabilities - Debts owed by a business that include loans, accounts payable, etc.
Equity - The value of assets after liabilities are settled.

Common Categories


Common categories are the default sub-categories available under the parent categories listed in the Chart of Accounts column.

Custom Categories


Users will have the ability to add additional sub-categories under the parent categories via the custom categories section.
How do I access My Categories?
Click on your name in the top right corner, then click
My Categories
.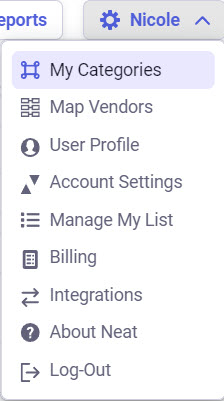 You can also access My Categories from the
Monthly Review
section underneath of
Do My Books
.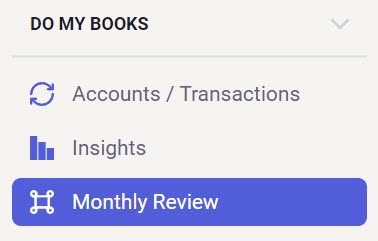 Click
My Categories
in the top right corner of the Monthly Review section.

Can I customize the My Categories to fit my needs?
Neat is giving you the ability to add and edit custom categories. We're putting the power in your hands and letting you create your own journey within Neat that works best for your business and the way you work.
How do I create custom categories?
Select the parent category from the 'chart of accounts' column where you want your custom category to be saved.
Click Add Category under custom categories.

Enter the name of your custom category and click Save.




The new custom category will be saved under the parent category you selected in step 2.
Can I rearrange the order of my categories?
Categories will always be listed alphabetically to make finding a specific category easy and therefore cannot be rearranged. When viewed in My Categories, there will be two lists of sub-categories for each parent category listed under the
My Categories
heading: one for
Common Categories
(these are the default categories) and one for optional
Custom Categories
which you can create as needed. When categorizing items you will see all Viewable sub-categories in one list regardless of whether they are Common Categories or Custom Categories.
Can I move custom categories?
You can move your custom categories to a different parent directory in the
My Categories
column. However, you can not have a category that duplicates the name of the parent directory or an existing category under that parent category. If you attempt this, you will see an error that states
A category with the same name already exists. Category names must be unique.

To move a sub-category to a different parent category:
Click the "3 dots" icon to the left of the category you want to move, then select MOVE.

In the drop-down box, select a new location for your custom category. Click SAVE to confirm.
Can I delete custom categories?
At this time, you cannot delete a custom category once it's been created. You can however, choose which items you want to include in your chart of accounts by placing a check mark in front of all the categories you want to include.
Can I add accounts from within My Categories?
You can now add new Asset and Liability accounts from within My Categories by following the steps below.
Select a Parent Category under Assets or Liabilities.
Click Add Account.

If you chose Bank under Assets or Credit or Loan under Liabilities, you will be taken to Accounts/Transactions to connect your bank, credit, or loan account. Proceed to enter your account information to connect it to Neat.

If you chose any other Parent Category under Assets or Liabilities, you will be able to create a new manual account. Enter the Starting/Opening Balance and adjust the Balance Date if needed. When finished click Save to create the account.

Please Note:

You can only create one Cash account.
If you have not connected any streaming accounts under Accounts/Transactions you will only be able to add accounts for Bank under Assets or Credit or Loan under Liabilities. After one streaming account is connected, you will be able to add manual accounts.
---
---