NOTICE: December 1st, 2022 - Mobile App Issue
Some customers may experience issues with auto capture, cropping, and rotating images on their Mobile App.
A resolution for this issue is now available. Check out our Status Page for more details and resolution.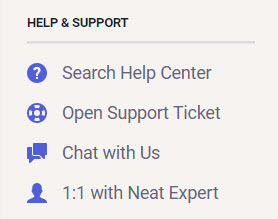 In-App Help for Neat Subscribers
All support and contact options are now available in the Neat app! Get Support & Learn about Neat by checking out "Help & Support" right in the app!
Launch The App
Retired Products
Please note that the information provided on these pages is related to products and/or services which are no longer supported and agent support is no longer available. This information is provided as a courtesy for users who may still need troubleshooting or FAQ information on end-of-life products.