Insights - Monthly Cash Flow
Neat's business health insights will provide you with the data and metrics you need to feel confident about your business – in real-time, on one screen on your Neat dashboard.
Neat's Monthly Cash Flow insight will allow you to see Monthly Cash Flow values at-a-glance on your Neat Dashboard upon login. You'll be able to quickly see how your business is performing and identify any unexpected expenses or cash flow issues. Check out our insights page to see what's coming to Neat for insights.
How is Monthly Cash Flow calculated?
The monthly cash flow is the sum of the debit and credit transactions from your connected bank and credit card accounts.
What data is available?
At this time, you can view data from the current month, the past 3 months, and the current month of the prior year.
At this time you cannot filter the monthly cash flow for a specific account, you can only see a collective of the monthly cash flow of debits and credits for all connected accounts.

How do I access my Monthly Cash Flow?
In order to see your monthly cash flow calculations, you must be a Neat Complete plan subscriber and you must have at least one bank or credit card account connected to transactions.
You can see your monthly cash flow calculations in the Neat Dashboard.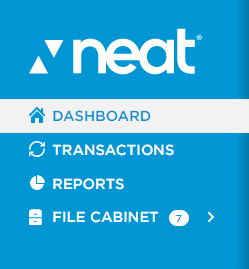 How do I create a report with my Monthly Cash Flow data?
Open your monthly cash flow data in the Neat Dashboard.

Click on the month you want to create a report for. (In the example we clicked December)

You will be brought to the transactions tab with updated filters for the time range you selected.
Click create a report to create a report with the data. For details about reporting in transactions, please check out this FAQ.
---
---