TWAIN Compliant Device Support
All Neat scanners are TWAIN compliant. While there are TWAIN drivers associated with the Neat Program, they are written specifically for our software. Our scanners have not been tested and are not supported in any other software program other than the Neat software. The Neat software installation includes TWAIN drivers.The Neat Scan Utility allows you to connect multiple devices and choose between which one you want to use for each scan. Follow the steps below to choose a scanning device:
Scan with third party scanners
Click Scan.
A Neat Scan window will appear. If you click Scan in the Neat Scan window, and you do not have a device connected, you will see a notification message in the upper left corner of the window.
Turn your Neat scanner on. A new message will appear in the upper left corner, listing the name of the device that is connected to your computer. In the example below, a NeatDesk (Neat ADF) scanner is being used.
If you have multiple devices connected, click on the small down arrow next to the device name to choose the device you want to use.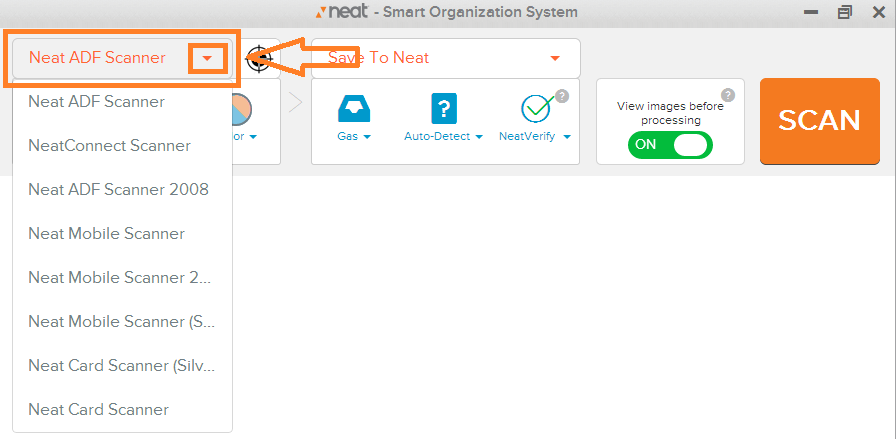 Once you have selected a device, click Scan and a separate window will pop up with your device's settings.
Once items are scanned, they will show in the Neat Software.
Please Note: You can use any TWAIN-compatible device with the Neat Software. TWAIN is a widely used software that allows you to scan an image directly into an application such as Neat. Consult your device manufacturer to find out if it is certified as TWAIN-compliant.
---
---